Selling a car in St. Louis can be a bit of a stressor for some, which is why some folks prefer to lease their next vehicle instead of buying it. Still, if you find yourself in need of a new vehicle or you just want to sell the one you no longer need and get the maximum amount possible, then this piece is for you! At Suntrup Automotive Group, we want to tell you how does selling your car to a dealership works, so you'll feel confident, prepared, and ready to sell!
---
Why You Should Sell to Your Local Dealership?
While you have a choice to either trade in your car to a local dealership like Suntrup Automotive Group or sell it on your own, trade-in is an easier process and you can even enjoy perks like:
Save Time & Avoid Hassles:

No need to list your car online, field potential buyers, or invite strangers to your home for test drives. 

Lower Your New Car Price: Apply your trade-in amount to your next vehicle.
Save on Your Taxes:

When you trade in your current vehicle and purchase another vehicle from Suntrup Automotive Group, you only pay the sales tax on the difference between the trade-in value and the cost of your new car. However, if you sell the car privately, the taxes will be more complicated.
Steps to Take Before Selling Your Car
Before you contact any dealerships near St. Louis, you're going to need to want to make sure your vehicle is in tip-top shape. Of course, if it needs major mechanical repairs and you've already sunk a lot of money into it, it may be wiser to sell it as-is than invest more into it. Do an objective cost-benefit analysis. For many vehicle owners, it's a good idea to get your vehicle professionally detailed or take care of pressing maintenance. Here are some additional tips for steps to take before selling your car:
Clean Your Car and Do Minor Maintenance: Detail your car, take it to a car wash, or at least clean it inside and out, taking care to spot clean any upholstery stains, vacuum the carpeting, take care of any odors and remove fur, etc. Also be sure to take care of minor maintenance tasks like installing brake lights, adding coolant, and more.
Have Important Documentation Ready: From your title to your registration to your license and all maintenance and repair receipts, have important documents at the ready. It's also wise to run a vehicle history report yourself to be prepared with any "dings" the dealer might use to try to negotiate the purchase price down.
Make Your Car as Stock As Possible: Have you added on lots of modifications or customizations to your vehicle over time? Try to sell your vehicle in as close to stock condition as possible. Take off your aftermarket rims, floor mats, uninstall your aftermarket radio, etc (you can resell these or use them in the next car you buy near Saddlebrooke!).
Be Aware Of Your Car's Condition & Estimated Book Value: It's a good idea to take your car to your mechanic before selling to have an accurate and objective understanding of what kind of condition it's in. After you know its condition, research it's fair market value.
---
How We Value Your Trade
Now we can get into the process of how does selling a car to a dealership work! Here at Suntrup Automotive Group, our aim when you sell a car is to make the entirety of the process hassle-free. That's why we offer you an easy way to value your trade online.
Not only is taking advantage of our trade-valuation process convenient for you, but it also ensures you get fairly compensated for your vehicle. The prices we buy cars at are market-based, meaning they rely largely on prices vehicles sell for at auction. Though we do re-sell some trade-ins at our dealership, others may be re-sold for minimal profit. Our goal is to make the entire process of selling your car easy, fair, and transparent.
How to Negotiate Selling Your Car
We hope you're beginning to get a better idea of how to sell to a dealership! We still have some important tips to divulge, though. Namely, tips on how to sell a car to a dealership in a way that gets you the price you need. While you should be realistic about what your car is worth, you also shouldn't settle for less. Some folks negotiate selling their car to a dealership separate from the dealership they buy at, so feel free to shop around. For the most convenient option though, consider selling to us at Suntrup Automotive Group. Regardless of who you sell to, be prepared to:
Shop Around: Not convinced you're getting a good deal in St. Charles? Look for a dealership that gives you a value you think is fair based on market values.
Negotiate Your Deal: Point out maintenance costs, vehicle condition, book value, and more — anything that will get you a higher value for your vehicle — and be sure that your trade-in value isn't offset by a higher interest rate, longer loan term, or things like delivery fees for the next vehicle you buy. Looking for a specific monthly payment? Use our payment calculator and input different estimated trade-in values to see how they offset your potential monthly car payments!
Read Before Your Sign: Before you finalize selling your car, make sure to read all relevant paperwork carefully and discuss the process with our knowledgeable finance staff.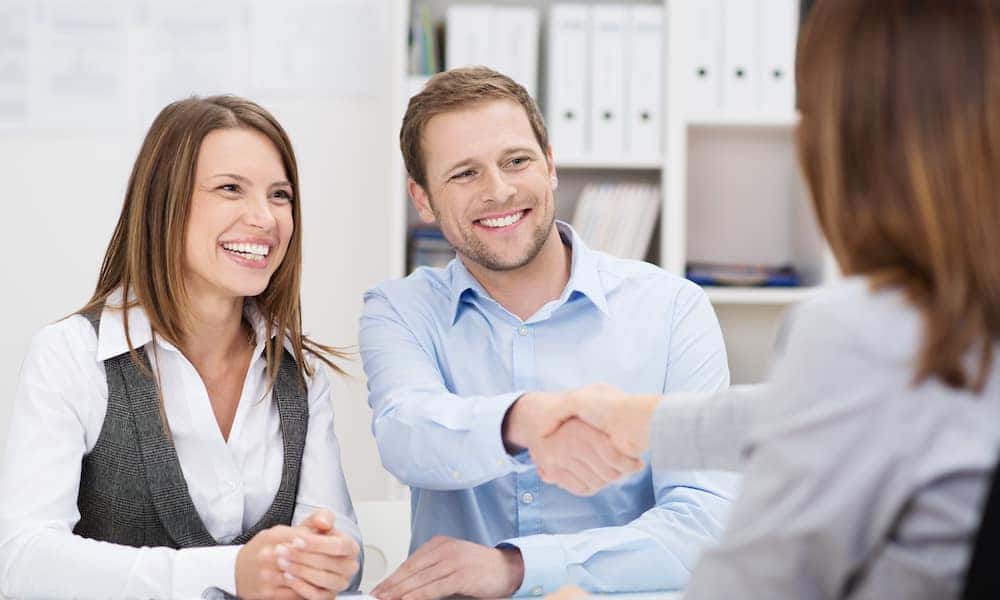 ---
Contact Us for More Information on How to Sell to Our Dealership
Now that you know how does selling your car to a dealership work, you can learn more about how to buy your next car. Don't hesitate to reach out to us here at Suntrup Automotive Group, where offering you a satisfactory customer-service experience is our #1 priority! We can't wait to help you sell your car and purchase or lease a new Nissan or used car, truck, or SUV that best fits your needs and your budget in Fenton!
---
New Cars for Sale in St. Louis