How to Clean Leather Car Seats

Leather seats are more luxurious than cloth, but they require special care in order to keep them in good condition. Learn about proper leather seat care with these helpful tips from Suntrup Automotive Group.
---
How Do You Keep Leather Seats in Good Condition?
Vacuum: Vacuum the seats, especially down in the crevices and seams, to remove any dust, dirt, or debris.
Clean: Using a pH-neutral cleaning solution with a microfiber cloth and soft-bristled brush, gently scrub the leather upholstery. Be careful not to get any of the liquid cleaner into perforated seats.
Condition: With a new, clean microfiber cloth, apply a leather conditioner into the seats.
Protect: Preserve and protect the leather by parking in the shade beneath a tree, in a garage, or anyplace out of direct sunlight.
---
What Cleaning Products Should Be Used?
Using a colorless, damp rag to lightly dust your car seats is a good way to keep them clean. For a more thorough wash, you should use warm water with a bit of soap or a specially made leather cleaner to wipe down the seats. Your owner's manual should have recommendations on products to use, or you can also research online to find the best type of leather conditioners available.Some products that you should stay away from when it comes to leather seat care include:
Sharp objects that may scratch
Household cleaner
Dark cloths
Detergents
Furniture polish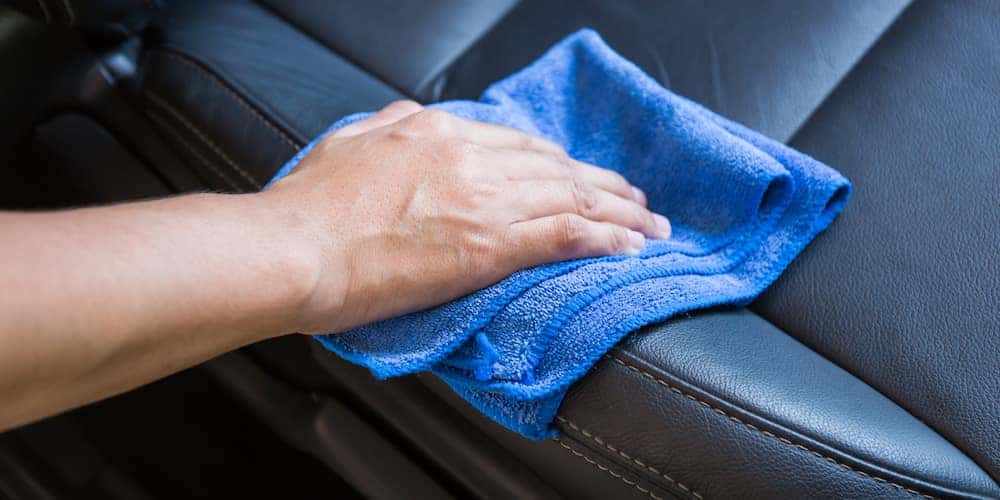 ---
Want to Know More About Cleaning Leather Car Seats?
To find out more about how to care for your leather seats in your car, truck, or SUV, contact the service center at your local Suntrup Automotive Group dealership. We are always happy to provide recommendations and additional information. Check out our car care tips, and when you're ready to upgrade your commute, explore our new and used vehicle inventory.
More from Suntrup Automotive Group
Have you been looking for the best summer events in St. Louis? You don't have to play a guessing game in order to plan your next vacation or day out. Locals and visitors alike have trusted Suntrup Automotive Group to show them to the best local restaurants and springtime attractions, and now, we're bringing you the best…

Once you buy a vehicle, you have to start taking care of it. This includes staying on top of basic vehicle maintenance and having your new or used car serviced when necessary. The Suntrup Automotive Group has several service centers in the greater St. Louis area. Offering detailed service on several makes and models, you'll…

If you're wondering what the difference is between CPO vs. used vehicles, you're not alone. Technically both categories of vehicles fall under "used," however, there are important distinctions between used and certified pre-owned that drivers in the St. Louis area will want to be aware of before shopping for their next car, truck, or SUV….