How to Determine the Fair Market Value of a Car

Wondering how to determine the fair market value of your car? At the Suntrup Automotive Group finance center, helping you with all your finance questions is our way of making you more prepared for the vehicle purchasing process! Even if you're just looking to sell your old car because you're moving to a new city farther from St. Louis or St. Charles or inheriting another vehicle, we can help you learn tips on evaluating how much your car is worth so when it's time to sell, you get a fair price!
---
How to Determine the Value of Your Car
There are several concrete things you can take to get a better idea of how much your car is worth in St. Louis or nearby. Here are some actionable steps to take when you want to learn how to determine the value of your car:
Check Pricing Guides: Vehicle pricing guides from companies like Cars.com, Kelley Blue Book and NADAGuides are a great place to look when searching for how to determine the fair market value of a car.
Check Out the Comps: When realtors try to evaluate homes, they check out comparable local listings. Though cars are depreciating assets, you can take a similar course of action when seeking to value your car. Look and see how much local vehicles like yours in similar condition to yours are selling for. This will give you a good idea of how much your car could fetch for sale.
Adjust Your Car's Value As Needed: Once you have a good idea of what pricing guides say your car is worth and what cars are selling for locally, you can see if you can sell your car for more or less than what pricing guides suggest. You'll also be in a better position to negotiate when trading your car in.
---
Other Tips On Valuing Your Car
There are more things to keep in mind when wanting to figure out a good value for your car. Namely, if you use our
online payment calculator
and decide you need a certain amount from your trade-in to make certain monthly payments work within your budget, you can take some steps to help increase the value of your trade proactively:
Fix Car Dents & Scratches: If you're looking to get more for a trade-in, make sure you give the car "good curb appeal" by fixing any dents or scratches and restoring full luster to the exterior paint.
Vacuum the Interior or Have It Detailed: Make sure you at the very least take your vehicle to a car wash. Better yet, bring it to a detailer to have the upholstery or carpet shampooed, the leather cleaned, and the nooks and crannies cleaned out.
Negotiate Trade-In & Vehicle Price Separately: To get the most out of your car, try selling it separately from buying a new vehicle.
Check the Trade-In Price Written Into Your New Car Auto Loan: If you are trading your car in, be sure to double-check its stated trade-in value as listed on any loan paperwork you sign.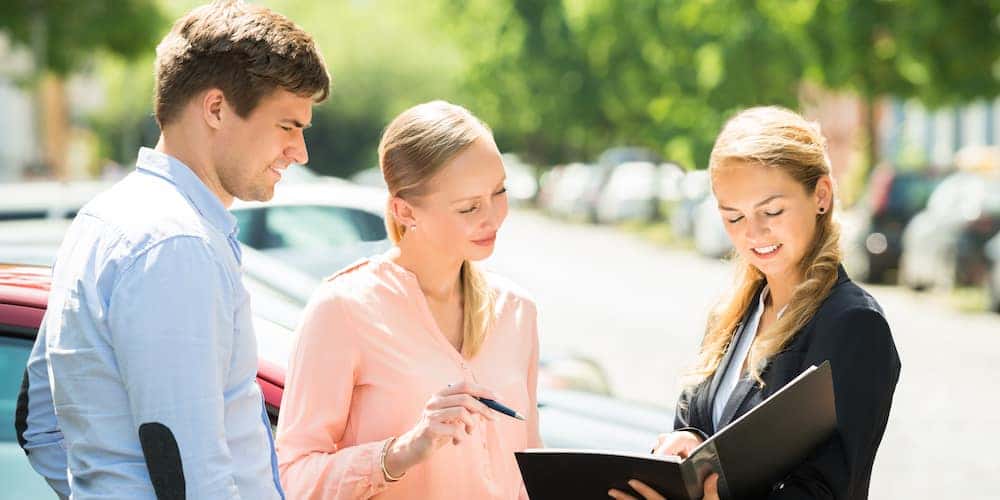 Contact Our Finance Team Today to Value Your Trade-In
Ready to learn more helpful car buying tips? We're here to help! Contact us today for additional information on getting the most out of your trade-in! Alternately, learn more about our unique car financing process from the comfort of home. We can't wait to help you get the most from your vehicle so you can drive home to Fenton in your dream car sooner than you might expect!
---
Used Cars for Sale in St. Louis