How to Clean a Car Windshield Inside

While cleaning the outside of your car windshield is simple, knowing how to clean a car windshield inside can be a bit more of a challenge. It's one of the many vehicle care tips to keep in mind. To clean the inside of a car windshield, there are a few supplies you will need before you can get started:
Microfiber towel
Glass cleaner
Rubbing alcohol
Once you have the required supplies, you can follow the steps below for a streak-free shine!
---
How to Clean Inside Car Windows
If you notice that it is becoming a little more difficult to see out of your car windshield, it is time to give it a quick cleaning. All you have to do is follow the handy guide below:
First, wipe down the glass with a microfiber cleaning cloth. You want to get rid of any grime or dirt beforehand.
Spray your preferred brand of glass cleaner on the microfiber cleaning cloth and wipe down the inside of the windshield. If you weren't able to get all of the dust and debris with the dry microfiber towel, this should do the trick.
A step that many Tucson drivers skip is applying rubbing alcohol to a clean microfiber cloth and wiping down the inside of the window. What does this step do? It helps to eliminate grease that can build up on the glass.
If you want to make sure your windshield really sparkles, you can use another round of glass cleaner or a glass polish.
---
Can You Use Windex on Car Windows?
In most cases, it is safe to use Windex on car windows. If you are worried about using it on tinted windows, it should not be a problem for most drivers. If your windows have been tinted by a third party, you may want to play it safe and skip it. Windex should not damage factory tinted windows. Keep in mind that if you are using Windex and you have leather seats, you want to be careful and avoid getting Windex on the leather. It can actually dry out the leather or discolor it.
More Car Windshield Cleaning Tips
If the steps above are not enough, you may want to try these tips:
A microfiber cleaning cloth eliminates the small paper fibers you get when cleaning with paper towels. They're also less likely to leave streaks.
A reach-and-clean tool can help with getting into the corners of the windshield.
Use a circular motion when wiping with a microfiber cleaning cloth. To get rid of any streaks, use the cloth to wipe vertically.
The tips above are also useful for cleaning the rest of your car windows!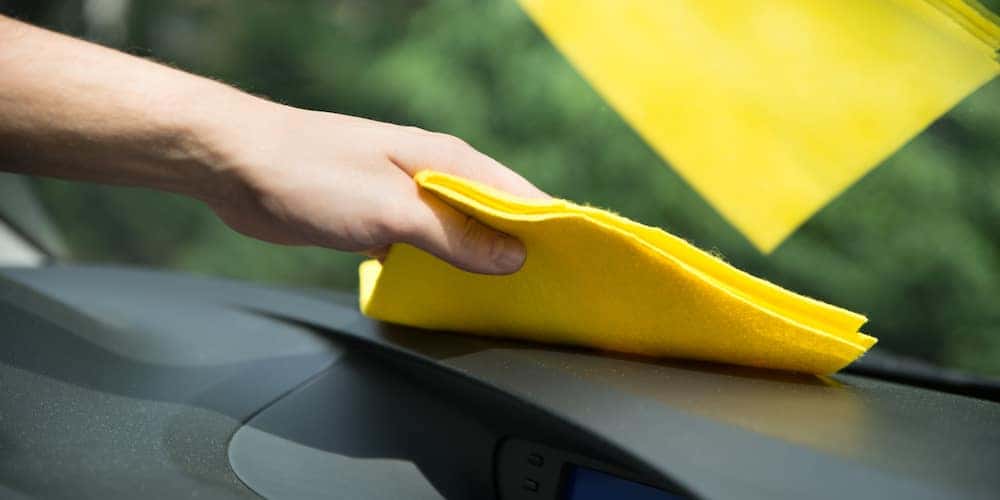 ---
Reach Out to the Team at Suntrup Automotive Group
If you have additional questions about car care, we would be glad to assist you. Contact us today at your convenience.
---
More from Suntrup Automotive Group
St. Louis is a great place to live at any time of year, but there's no way to deny that fall is one of the most seasons for folks who live nearby. In truth, there are so many exciting fall events around St. Louis, that it can be hard to choose just one or pick…

Have you been looking for the best summer events in St. Louis? You don't have to play a guessing game in order to plan your next vacation or day out. Locals and visitors alike have trusted Suntrup Automotive Group to show them to the best local restaurants and springtime attractions, and now, we're bringing you the best…

Once you buy a vehicle, you have to start taking care of it. This includes staying on top of basic vehicle maintenance and having your new or used car serviced when necessary. The Suntrup Automotive Group has several service centers in the greater St. Louis area. Offering detailed service on several makes and models, you'll…