How to Clean Car Floor Mats

Car floor mats take a beating. They keep your vehicle protected from the elements every single day, which is why thorough cleaning is necessary from time to time. Suntrup Automotive Group has all of the steps to getting your floor mats clean. We make it easy to keep your vehicle in pristine condition for many years to come. Contact us today for more details. We proudly service the St. Louis area and beyond.
What You Need
Before you get started, you will want to have all of the necessary supplies handy. Here is what you need to clean both rubber or carpet floor mats:
Rubber Floor Mats: Vacuum, rubber floor mat cleaner, stiff bristle brush, hose or bucket of water, microfiber towel or a place to hang your mats
Carpet Floor Mats: Vacuum, carpet floor mat cleaner, brush, hose or bucket of water, wet vac if available, or a place to hang your mats
How to Clean Rubber Floor Mats
Take the rubber floor mats out of the car so that you can keep the interior of your vehicle dry.
Shake out the mats.
Rinse the mats with clean water.
Use a cleanser that was created just for rubber mats. Use a stiff bristle brush and gently scrub the floor mats. This should help to get rid of any additional grime and debris.
Rinse the mats clean.
Hang the mats up to dry or use a microfiber towel if you have one. The mats should be thoroughly dry before you put them back inside of the vehicle.
How to Clean Carpet Floor Mats
Take the mats out of the car.
Vacuum the floor mats to remove dirt.
Shake and whack the floor mats against a hard surface to rid them of dust and smaller dirt particles.
Apply a cleaner that has been designed specifically for carpet floor mats. You will want to look at the directions on the cleaner you have chosen because the steps can vary. You don't want to end up damaging your floor mats by not following manufacturer guidelines.
Scrub the mats to get rid of any ground-in debris or stains.
Thoroughly rinse all of the cleaner from the mats.
If you have access to a wet vac, try vacuuming your floor mats again. This should eliminate any leftover dirt and debris as well as allow your floor mats to dry quicker.
Hang your mats to dry. Check that they are completely dry before they are placed back in your car.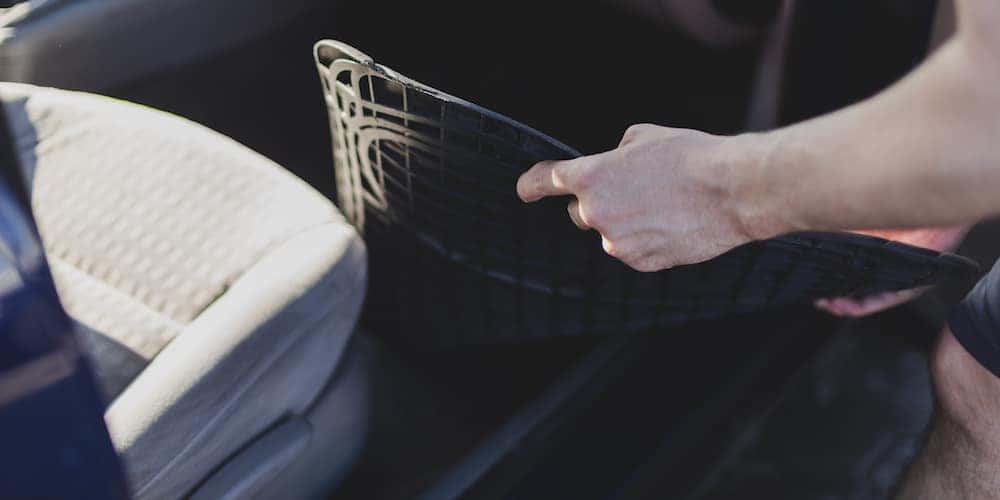 Need Help Cleaning Your Floor Mats?
Now you have learned how to clean your car floor mats. If you want to make sure you are choosing the right materials, you can visit one of our service centers near Green Valley and Saddlebrooke. We would be glad to ensure you are using the proper products. We would also be happy to answer any other service-related questions you may have, such as how to make your tires last longer.
---
More from Suntrup Automotive Group
St. Louis is a great place to live at any time of year, but there's no way to deny that fall is one of the most seasons for folks who live nearby. In truth, there are so many exciting fall events around St. Louis, that it can be hard to choose just one or pick…

Have you been looking for the best summer events in St. Louis? You don't have to play a guessing game in order to plan your next vacation or day out. Locals and visitors alike have trusted Suntrup Automotive Group to show them to the best local restaurants and springtime attractions, and now, we're bringing you the best…

Once you buy a vehicle, you have to start taking care of it. This includes staying on top of basic vehicle maintenance and having your new or used car serviced when necessary. The Suntrup Automotive Group has several service centers in the greater St. Louis area. Offering detailed service on several makes and models, you'll…