How to Jump Start a Car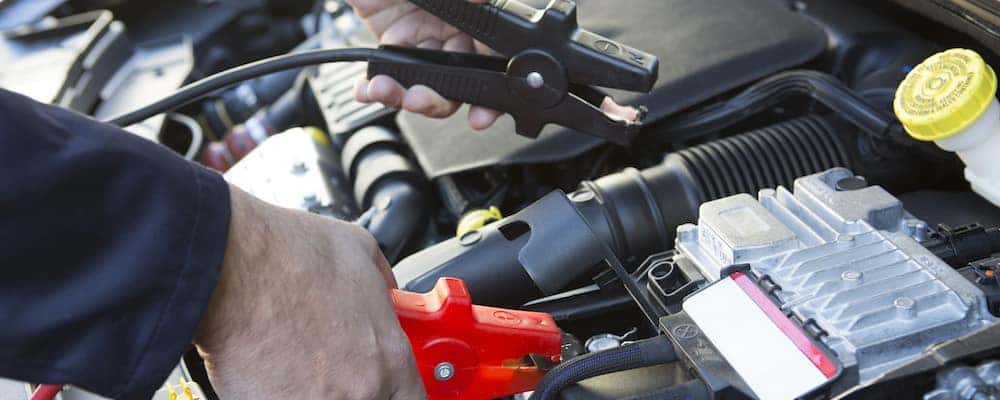 Car won't start? You may need to jump start your car battery. The team at Suntrup Automotive Group have crafted a hnady guide for you on how to properly jump start your car. Should your battery be closing in on the end of its lifespan, visit one of our many service centers in the St. Peters area for a fresh battery.
The Proper Way to Jump Start a Car
First things first, you will need another vehicle and a set of jumper cables. Alternatively, you can call a service such as AAA to help you jump start your car. Once you've gotten situated, follow these simple steps:
Park the car with the good battery facing the other vehicle, making sure the vehicle is turned off. Engage the parking brake on both cars.
Pop the hood of both cars and locate the batteries. On some models, you'll need to remove a small, plastic hood to reveal the battery terminals.
Find the positive and negative terminals, making sure to clean each should there be any corrosion.
Connect the red clamp of the cables to the positive post on the dead battery.
Uncoil the battery cable and hook the other red clamp to the positive terminal of the battery with the charge.
Connect the black clamp to the negative post on the good battery.
With the final clamp, connect it to an unpainted metal surface on the car's frame.
Make sure everything is securely hooked up, start the engine of the vehicle with the good battery first, and then the one with the dead battery.
More Battery Tips and Tricks
If the jump start is unsuccessful, you probably need a completely new battery or there might be a bigger issue at hand. To troubleshoot the issue, take these steps:
If you hear a clicking sound when you try to start the car, the starter might not be functioning properly. Schedule service at one of our service centers near Arnold for a replacement.
If the engine fails to turn over but the electrical systems of the car work fine, there could be a number of problems. Potential problems could exist with the starter, ignition switch, battery, or a fuse. Bring your vehicle into a service center to have the issue properly diagnosed.
Leave your vehicle running for a while after a successful jump. This allows the battery to recharge fully after it's been drained.
Rely on Suntrup Automotive Group for Service
From battery replacements to checking your oil, and tire tread depth, our team can help you with any service needs. We have many service locations throughout the greater St. Louis area, so contact us today with any questions or concerns!
More From Suntrup Automotive Group
St. Louis is a great place to live at any time of year, but there's no way to deny that fall is one of the most seasons for folks who live nearby. In truth, there are so many exciting fall events around St. Louis, that it can be hard to choose just one or pick…

Have you been looking for the best summer events in St. Louis? You don't have to play a guessing game in order to plan your next vacation or day out. Locals and visitors alike have trusted Suntrup Automotive Group to show them to the best local restaurants and springtime attractions, and now, we're bringing you the best…

Once you buy a vehicle, you have to start taking care of it. This includes staying on top of basic vehicle maintenance and having your new or used car serviced when necessary. The Suntrup Automotive Group has several service centers in the greater St. Louis area. Offering detailed service on several makes and models, you'll…