How to Check Car Oil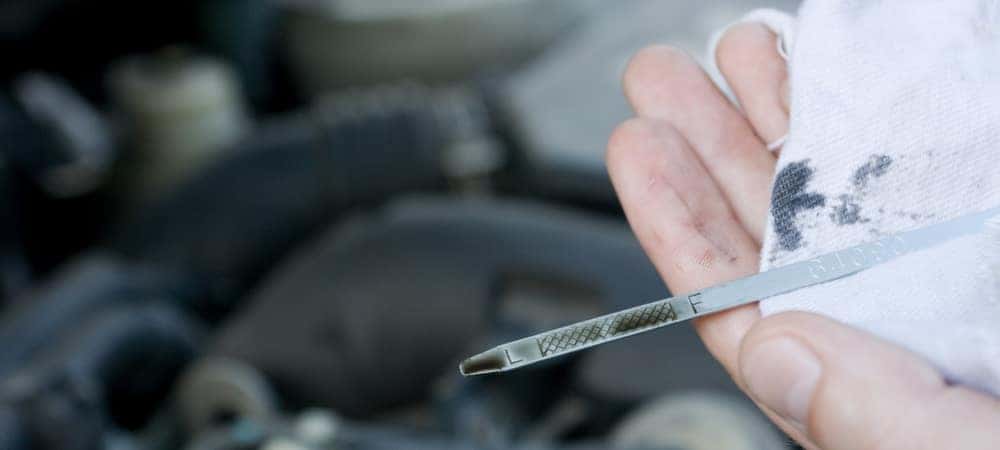 Checking your oil is a simple way to make sure your vehicle has what it needs for optimal performance. Maintaining proper oils levels allow all your engine's parts to stay lubricated and function properly. Learn how to check your car oil below so you can maximize your vehicle's performance on streets today.
Learn How to Check the Oil Level in Your Car
If you have a newer vehicle, you will want to check your owner's manual for the automaker's recommendations, as some newer vehicles have electronic oil monitors that don't use traditional dipsticks.
To manually check your oil using a dipstick, follow these simple steps:
Park your vehicle on level ground and turn the engine off. Allow it to sit until the engine is cold.
Open the vehicle's hood and find the dipstick.
Remove the dipstick from the engine and wipe any oil from the end of it.
Re-insert the dipstick all the way back into its tube, then remove it again and look at both sides to see where the level is.
Your dipstick will have some sort of markings to indicate the oil level If the top of your oil streak is between two marks or within a cross-hatched area, then your level oils are fine. If it isn't, you'll need to add more oil.
Before topping off your oil yourself, make sure to check your owner's manual and buy the recommended grade for your model. Once you have the proper oil, remove the oil filler cap, then add oil a little at a time until the dipstick indicates you've reached the proper level.
Let the Suntrup Automotive Group Service Team Keep Your Car in Prime Condition
Whether you are in need of expert advice or are looking for a professional to do the job, we have certified mechanics ready to tackle all your repair and maintenance needs. We also offer a selection of money saving service specials for drivers, as well as guides on a general car maintenance schedule, and how to check your tire tread depth. Visit a Suntrup Automotive Group service center today or contact us online for further assistance.
More From Suntrup Automotive Group
Once you buy a vehicle, you have to start taking care of it. This includes staying on top of basic vehicle maintenance and having your new or used car serviced when necessary. The Suntrup Automotive Group has several service centers in the greater St. Louis area. Offering detailed service on several makes and models, you'll…

If you're wondering what the difference is between CPO vs. used vehicles, you're not alone. Technically both categories of vehicles fall under "used," however, there are important distinctions between used and certified pre-owned that drivers in the St. Louis area will want to be aware of before shopping for their next car, truck, or SUV….

We've always enjoyed the local holiday events, but now it's time to put away those heavy winter coats and get out to some of the festive springtime events in St. Louis. Spring is one of our favorite seasons here at Suntrup Automotive Group, and we've compiled a list of some fun things to do this spring that we…