How to Safely Remove a Car Battery

Your car battery helps to start your engine, day after day. Even if you take good care of it, it's eventually going to need to be replaced! You may have heard that removing a car battery can be dangerous, and it certainly can be. That said, learning how to remove a car battery the right way only takes a moment. Take advantage of our guide and get rid of your old battery today!
Removing a Car Battery: Preparation
Make sure that you're wearing insulated work gloves. When all else fails, this will help you to avoid the serious shock that a car battery can deliver. You should also make sure you're wearing safety goggles, as battery acid is corrosive. You'll also need a set of wrenches.
Park the car in an open, well ventilated area so that dangerous fumes can escape. Before you go anywhere near the car battery, turn off the engine and let it cool. This reduces the risk that a spark will ignite flammable agents in the air.
Here's what else you should keep in mind when you're getting ready to remove a car battery:
Have some zip ties on hand. By locking the battery cables into place, you can prevent them from touching. If they do touch, sparks will fly, creating a fire hazard.
After you've removed the positive cable, cover it with a cloth to prevent metal-to-metal contact.
Remove all jewelry, including necklaces, watches, bracelets, and rings. Any metal can conduct electricity and cause you to get a shock.
Is one of your battery cables fused to the terminal? You can find the part you'll need to remove it at your local auto parts store. However, we'd understand if you'd prefer to entrust the work to one of our service centers near St. Charles or Arnold.
Removing a Car Battery: Step-by-Step
You've completed all of the necessary preparations, and you've got your supplies. Here's how to remove a car battery in six simple steps:
Locate the negative terminal. It should have a black plastic cover. You might also see a minus (-) sign on the terminal, or close by.
Use your pliers or one of your wrenches to hold the bolt head in place. Use another set of pliers to remove the nut.
You should be free to remove the negative battery cable. Secure it away from the battery.
Repeat the process for the positive cable. As you remove the positive cable, take care to ensure that the ends never touch. Secure it carefully to ensure that there's no metal-to-metal contact.
Is your battery held by a securing bracket? Use your wrench to take out the screws and bolts that hold it in place.
Lift the battery out of the bracket, but remember that it may weigh up to 40 pounds! Make sure you have good leverage, and a safe place to set it down.
Remember: You can't put a car battery in your household trash or recycling. Look for a local disposal center online, or contact Suntrup Automotive Group for assistance.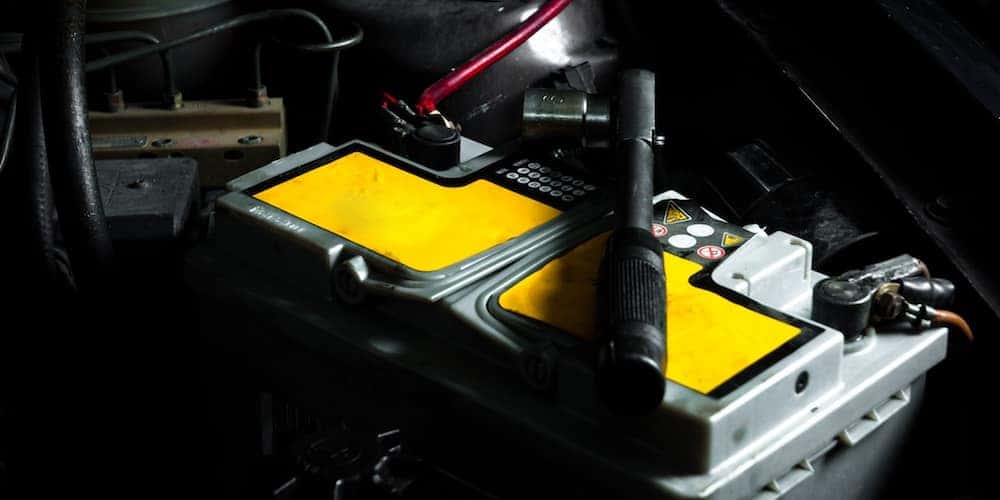 The Easiest Way to Remove a Car Battery? Schedule Service with Us.
You've learned how to remove a car battery, but if you still don't feel up to the task, you can always find your local Suntrup service center and schedule an appointment. We can have you in and out with a new car battery in no time.
If you do decide to tackle the removal process at home, you can pick up a new car battery at your local Suntrup parts department! Our expert techs will help you find the perfect, long-lasting battery for your vehicle.
---
More from Suntrup Automotive Group
St. Louis is a great place to live at any time of year, but there's no way to deny that fall is one of the most seasons for folks who live nearby. In truth, there are so many exciting fall events around St. Louis, that it can be hard to choose just one or pick…

Have you been looking for the best summer events in St. Louis? You don't have to play a guessing game in order to plan your next vacation or day out. Locals and visitors alike have trusted Suntrup Automotive Group to show them to the best local restaurants and springtime attractions, and now, we're bringing you the best…

Once you buy a vehicle, you have to start taking care of it. This includes staying on top of basic vehicle maintenance and having your new or used car serviced when necessary. The Suntrup Automotive Group has several service centers in the greater St. Louis area. Offering detailed service on several makes and models, you'll…