How to Remove Corrosion from a Car Battery

In the following guide, we will discuss how St. Louis drivers identify car battery corrosion, what causes battery corrosion, how to clean it, and how to prevent it. Luckily, if you maintain and clean it correctly, you can create a fresh surface and spare yourself the cost of a brand new battery.
What Does Corrosion Look Like?
If you suspect you may have battery corrosion because you've experienced diminishing power, issues starting your car, or low voltage codes on your dashboard lights, it's time to check for corrosion. Pop the hood of your vehicle and inspect the battery terminals and metal. If the terminal has white (sometimes even green/blue/teal), powdery material caked around it— you've got corrosion. Also take note of any rust on the metal parts of your terminals and cables.
What Causes Car Battery Corrosion?
As mentioned before, time is the main cause of battery corrosion. This is because your car battery is constantly heating and cooling as your motor runs, which releases hydrogen gases through the battery's ventilation. As these gases are continuously let-off over time, they mix with the surrounding material and form a substance at the connection point. That substance is the corrosion we see, and it occurs at the terminal because that's where the electric connection is in the case of a car battery.
How to Clean Car Battery Corrosion
There are two main ways to remove corrosion from a car battery. You can use solutions from an auto store made specifically for car batteries, or you can do it yourself with household products. It's important to take safety precautions like wearing gloves, goggles, and a respirator when working around battery acid, electrical currents, and rust.
Use a professional battery cleaner
Acquire a battery cleaning solution or other electrical contact cleaning spray from an auto store. Spray liberally to the affected surface and brush with a wire brush until corrosion is eliminated.
DIY battery cleaning solution 
After removing the connectors from the terminal, pour baking soda on the corrosion to neutralize the acids. Then, add some water to catalyze a reaction. Dry with a paper towel, and brush it with a scrub sponge.
Now that you're terminals are clean, prevent further car battery corrosion with rust inhibitor spray, a spray battery protector, or anti-corrosion gel.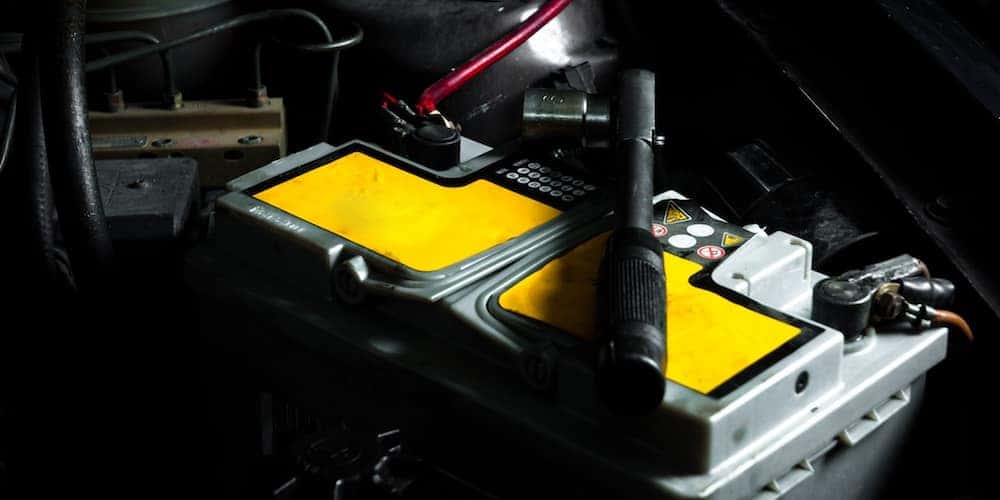 Schedule Service at Suntrup Automotive Group
To keep your vehicle running smoothly through the streets of St. Charles, you want to schedule regular maintenance. If you have any other maintenance questions or would like to schedule service, please contact our service department here at Suntrup Automotive Group. We'd be happy to help. Keeping St. Peters drivers' vehicles in the best possible shape is our priority.
---
More from Suntrup Automotive Group
St. Louis is a great place to live at any time of year, but there's no way to deny that fall is one of the most seasons for folks who live nearby. In truth, there are so many exciting fall events around St. Louis, that it can be hard to choose just one or pick…

Have you been looking for the best summer events in St. Louis? You don't have to play a guessing game in order to plan your next vacation or day out. Locals and visitors alike have trusted Suntrup Automotive Group to show them to the best local restaurants and springtime attractions, and now, we're bringing you the best…

Once you buy a vehicle, you have to start taking care of it. This includes staying on top of basic vehicle maintenance and having your new or used car serviced when necessary. The Suntrup Automotive Group has several service centers in the greater St. Louis area. Offering detailed service on several makes and models, you'll…