How to Use Paddle Shifters

Paddle shifters are increasingly common on new vehicles, and more and more of our neighbors are realizing how exciting and engaging it can be to use them! When you can take control on the streets of and , you'll get more out of every drive. Get the facts on this innovative feature and find out how to use paddle shifters with Suntrup Automotive Group today.
What do Paddle Shifters Do?
If you're not already aware, paddle shifters are essentially a steering wheel-mounted version of the traditional manual shifter. With the latter, you'll need to press the clutch move a knob with your right hand in order to change gears. So, what do paddle shifters do to improve your day-to-day? This innovative features allow you to achieve the same effect–a more engaging performance–without the extra steps.
In addition to providing a more invigorating drive, paddle shifters can help you manage your RPMs and drive more responsibly, and in some cases, can increase the life of your brake pads.
How to Use Paddle Shifters
Here's everything you need to know about how to use paddle shifters:
To activate your paddle shifters, you'll need to enter your vehicle's manual mode.
The right paddle is responsible for upshifts. The left paddle handles downshifts.
This feature will not work if you press both paddles at the same time, or if you tap one while the other is held down.
If you try to upshift before reaching the higher gear's lower limit, you will not change gear. Likewise, your paddle shifters can't initiate a downshift before you reach the upper limit of the lower gear. This prevents you from damaging your drivetrain.
As with any manual gearbox, you can't shift into third or higher while stationary.
If you're finished using your paddle shifters, you can shift into D, or drive mode.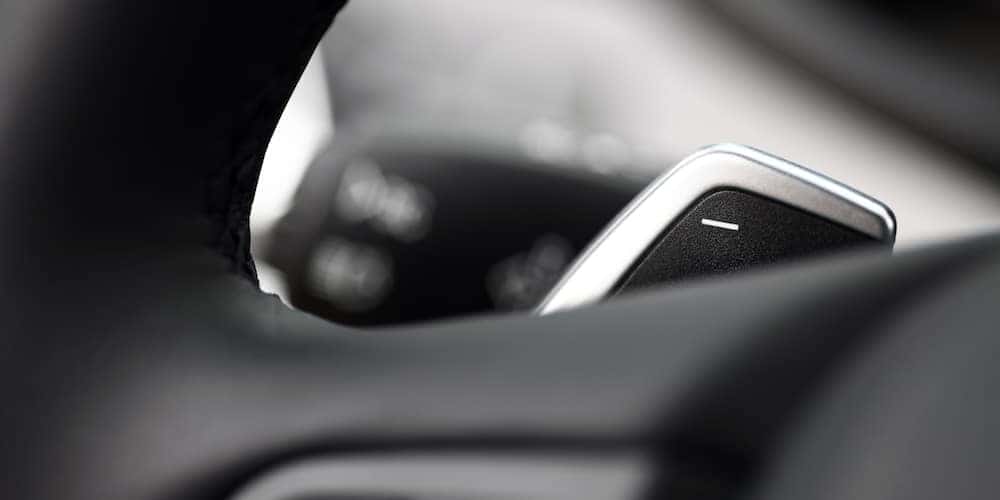 Which Vehicles Offer Standard or Available Paddle Shifters?
The Suntrup Automotive Group network is proud to offer vehicles from a wide variety of popular makes. So, if you drive in the or areas, you can easily find a new BMW, a new Hyundai, or a new Volvo with paddle shifters. This really only scratches the surface of our extensive new vehicle inventory, which currently includes more than 2,000 new vehicles for sale today!
Interested in narrowing down your options? Take advantage of our vehicle finder service, and mention that you're looking for a new vehicle with paddle shifters! We'll contact you with some options that will give you plenty to get excited about.
Start a New Adventure with Suntrup Automotive Group!
Now that you've found out how to use paddle shifters, we could hardly blame you if you were ready to get behind the wheel! Contact us today to set up a test drive. Still doing research? Learn about the differences between sedans and coupes, or find out how often to rotate tires for optimal performance.
More from Suntrup Automotive Group
Have you been looking for the best summer events in St. Louis? You don't have to play a guessing game in order to plan your next vacation or day out. Locals and visitors alike have trusted Suntrup Automotive Group to show them to the best local restaurants and springtime attractions, and now, we're bringing you the best…

Once you buy a vehicle, you have to start taking care of it. This includes staying on top of basic vehicle maintenance and having your new or used car serviced when necessary. The Suntrup Automotive Group has several service centers in the greater St. Louis area. Offering detailed service on several makes and models, you'll…

If you're wondering what the difference is between CPO vs. used vehicles, you're not alone. Technically both categories of vehicles fall under "used," however, there are important distinctions between used and certified pre-owned that drivers in the St. Louis area will want to be aware of before shopping for their next car, truck, or SUV….