Buying New vs. Buying Used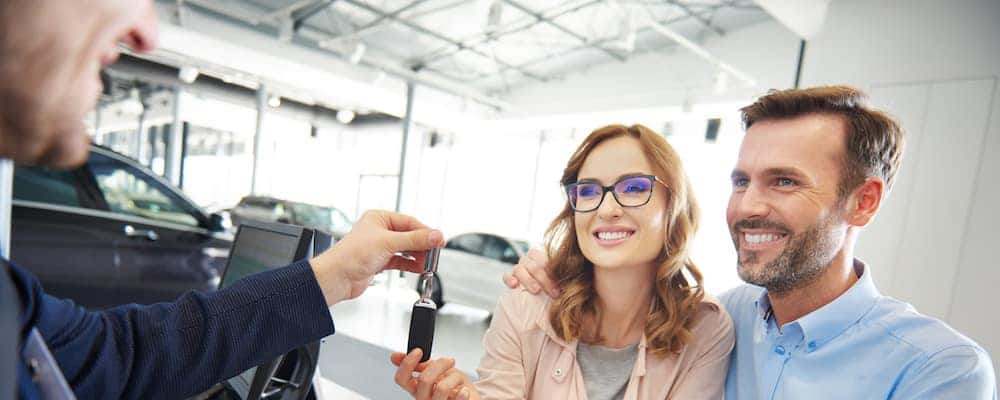 Any driver deciding between buying new vs. buying used needs to think about everything from monthly payments and available features to liability insurance. So, we've made the job easier by laying out the benefits of each option. Turn to Suntrup Automotive Group, your St. Louis-area auto experts.
Benefits of Buying New
No History: New cars are naturally more reliable than used ones since every part is free of wear and tear. You'll also know exactly how the car was treated before you take ownership.
Latest Technology: The latest vehicles benefit from cutting-edge technology. That means everything from smartphone integration to the peace of mind that comes with driver-assistance safety features. You can also access a more engaging drive with paddle shifters and other new performance features.
Lower Fuel Consumption: As a rule, a newer vehicle will burn less fuel than an older one, making your ride less costly and more eco-friendly.
Easier Process: When you buy new, you walk into a dealership, decide on everything from trim level to exterior color, and end up with exactly what you want.
Benefits of Buying Used
Lower Costs: The major advantage of buying new is saving money. You'll enjoy lower monthly payments, lower insurance costs, and avoid paying a large chunk of cash for sales tax.
Lower Depreciation: New cars lose a huge amount of value the second you drive them off the lot, so they'll be worth a lot less when you come to sell. Used models skip that sharp initial depreciation period.
Wider Range: When you buy new, you can look at different model years as well as different models – you can even pick up a vehicle that's no longer made new.
Decent Reliability: Buying used isn't the gamble it used to be. Today's used models are much more dependable than the ones you might have picked up a few decades ago, and if you opt for a certified pre-owned model, you'll enjoy even more peace of mind.
Still not sure which option is the best choice for you? Find out how to determine a budget when you're upgrading your ride, or take an in-depth look at the advantages of buying used cars.
Find a Full Lineup of New and Used Vehicles at Suntrup Automotive Group
Whether you're interested in driving a new vehicle around or a used one through , we can help. Simply contact us today to explore everything from financing options, to our used car buying checklist, and pre-owned specials. Learn about the differences between used and certified pre-owned, and if you're wondering if you should buy or lease, consult our helpful guide to learn the benefits of both.
More From Suntrup Automotive Group
Have you been looking for the best summer events in St. Louis? You don't have to play a guessing game in order to plan your next vacation or day out. Locals and visitors alike have trusted Suntrup Automotive Group to show them to the best local restaurants and springtime attractions, and now, we're bringing you the best…

Once you buy a vehicle, you have to start taking care of it. This includes staying on top of basic vehicle maintenance and having your new or used car serviced when necessary. The Suntrup Automotive Group has several service centers in the greater St. Louis area. Offering detailed service on several makes and models, you'll…

If you're wondering what the difference is between CPO vs. used vehicles, you're not alone. Technically both categories of vehicles fall under "used," however, there are important distinctions between used and certified pre-owned that drivers in the St. Louis area will want to be aware of before shopping for their next car, truck, or SUV….